At ISM we understand how to design a service that compliments your business requirements.
Our security operators understand why they are different from other security providers and what it means to be the first point of contact for your clients.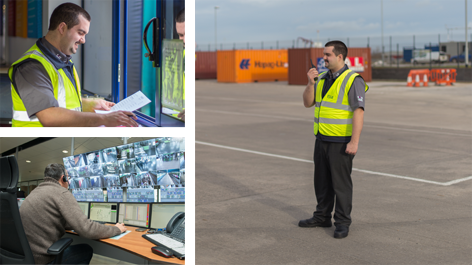 We provide friendly, informative and multi skilled security personnel with a can do attitude so that you can concentrate on your core business securely and safely.
From guarding and administrating goods in and out, to site patrols reception and customer service we can provide the right solution for your site.
ISM integrate hard and soft electronic security systems and the highest quality security solutions to meet and exceed your aims and objectives.
We use the latest GPS workforce management devices to provide real time data to all stakeholders. This data provides instant access to where the security operators are, where they have been and provides historical data for criminal investigation and auditing.
We provide unparalleled training and support through weekly site visits providing clear and transparent reporting and compliance administration.
Contact us today for a free site specification proposal and find out why ISM manned security services are different.
cleaning:
office
warehouse
floor
high level
car parks
retail
chiller and freezer
evaporator
production line
machinery and plant
truck and trailer
cladding
builders cleans
line mark cleaning
roof and guttering
drain
recycling and waste management
pallet bay
yard
security:
manned solutions
cctv solutions
site access control
warehouse
car park
reception and telephone services
mobile solutions
landscape:
tree maintenance
hedge and shrub maintenance
grass cutting and strimming
herbicide spraying
turf management
planting and design
hard landscape maintenance
stump grinding
chipping and mulching
maintenance:
painting
basic plumbing
basic carpentry
basic production machinery and plant
general
roof and guttering
drain