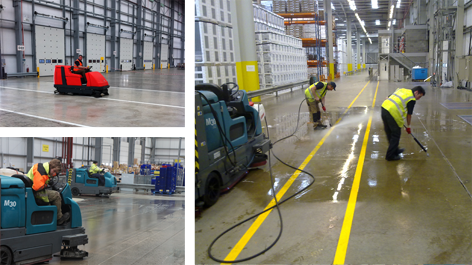 ISM is the UK's  No 1 industrial warehouse cleaning company.
ISM provides the UK's largest warehouse and  production buildings with a comprehensive range of site services to maintain your site to the highest standards so you can focus on your core business.
Our innovative cleaning machines, cleaning liquids, process, highly trained operators and management systems provide a range of services designed to work alongside the busiest working environments including:
recycling and waste management
warehouse floor cleaning
high level cleaning
pallet bay cleaning
racking cleaning
cladding cleaning
ducting cleaning
extraction cleaning
cold store cleaning
freezer cleaning
production area cleaning
machine cleaning
roof cleaning
car park cleaning
truck cleaning
trailer cleaning
office cleaning
kitchen cleaning
ISM provides its services UK wide to the distribution, logistics and production industries including Homebase, Argos,  Kuehne and Nagel, Cofely, Accolade wines.
Please contact us today for a free site survey. Our highly experienced project managers will provide you with a full site review on current operations / spend with proposed changes to increase standards and quality and identify cost savings.
cleaning:
office
warehouse
floor
high level
car parks
retail
chiller and freezer
evaporator
production line
machinery and plant
truck and trailer
cladding
builders cleans
line mark cleaning
roof and guttering
drain
recycling and waste management
pallet bay
yard
security:
manned solutions
cctv solutions
site access control
warehouse
car park
reception and telephone services
mobile solutions
landscape:
tree maintenance
hedge and shrub maintenance
grass cutting and strimming
herbicide spraying
turf management
planting and design
hard landscape maintenance
stump grinding
chipping and mulching
maintenance:
painting
basic plumbing
basic carpentry
basic production machinery and plant
general
roof and guttering
drain