Clean office space increases productivity. Staff are more motivated when provided with high standards of cleanliness and hygiene. The fabric of the building requires less maintenance and repair costs are kept to a minimum when work areas are clean.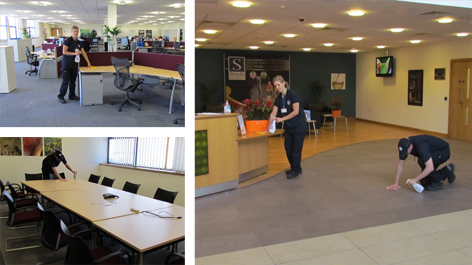 ISM FS take great pride in office cleaning, using innovative training and equipment we are able to provide better trained, higher quality staff to service your location and provide high quality cleaning standards.
ISM provides the highest levels of management to ensure all staff are on site on time each day servicing each site schedule. Your dedicated ISM area manager will be on site each week to manage the site quality so you do not have to. Each client is provided with a weekly audit report and site summary report highlighting what we did last week, what we are doing this week and what is planned for next week.
All this information is provided to client stakeholders weekly through a secure network for clear and instant access to all ISM site activities. The audit and summary reports are stored in a secure cloud based server for easy access for review, health and safety and site accreditation support.
ISM managers visit each site every week for a minimum of 4 hours to forensically audit each process and provide meaningful training and support to all staff. Our managers work alongside each staff member pre and post shift daily to ensure that all activities are completed.