chiller & freezer cleaning services
ISM provide deep cleaning services in warehouse freezers and chill warehouses. Our highly skilled and experienced operators can clean your evaporators and evaporator condensation drainage systems to ensure that they are working correctly and are clean for servicing.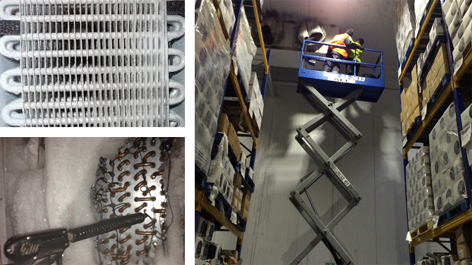 Cleaning evaporators removes ice dirt and grime build up and can improve air flow and fan productivity.
This can lead to savings in energy costs and help you meet environmental and health and safety requirements.
Cleaning the evaporator drainage  removes ice build up, blockages, dirt and grime and stops excessive water from blowing back into the warehouse.

Our freezer floor and wall cleaning services ensure that your site is compliant with health and safety and food accreditation standards by removing ice, dust and debris from all surfaces, tyre marks from floors and debris and dust from pallet floor spaces and racking.
We can also clean your curtains, production lines and machinery using our innovative, non-slip, pH neutral, environmentally and food friendly sub zero cleaning liquids.
Please contact us for a free evaporator health check from one of our friendly operators who will provide you with a no obligation quote.